GCS sets a new standard in mechanical mine clearance
Last month, GCS had the opportunity to test and demonstrate the maximum survivability of one of its remote-controlled multi-purpose machines, the GCS-200. Equipped with the T-200 Tiller attachment, the machine underwent a rigorous testing protocol by the Croatian Mine Action Centre – Centre for Testing, Development and Training (CROMAC-CTDT). The GCS-200 delivered an outstanding performance and successfully neutralised 22 mines. As a result, the GCS-200 received certification from CROMAC for safe, efficient and effective mechanical demining.
The team gets ready
Damir Stimac, GCS Sales Manager Croatia, led and coordinated the project with CROMAC-CTDT at the Cerovac test site, around 60km south of Zagreb. "I am feeling very confident about the days ahead," said Stimac, "the GCS-200 remote-controlled platform represents the latest technology in mechanical mine clearance and outperforms any similar mechanical system on the market." The GCS-200 machine and the tiller attachment were transported to the test site from Germany by Christopher Thompson (our GCS-200 Senior Technician) and a team of GCS experts, with a fully equipped mobile service van. Upon arrival, the CROMAC-CTDT test leader, Mr. Ivan Steker conducted a pre-test inspection of the GCS-200 machine and supporting equipment and the green light was given to proceed with the testing. The tests were conducted in accordance with the CWA15044:2009 and IMAS 09.50 for safe, efficient and effective mechanical demining.
Performance tests
Following careful preparation of the site, the GCS-200 went up against the first round of tests – a thorough evaluation of the performance of the machine in three different soil topologies (sand, gravel and topsoil). The GCS-200 performed excellently in the three consecutive test lanes, demonstrating a continuous and consistent penetration on all soil types and at required depths at efficient speed. The day concluded with a vegetation clearance test, where the GCS-200 was evaluated for its capacity in clearing varying densities of vegetation; low, medium and high. The GCS-200 successfully cleared a few hundred square meters of vegetation in all scenarios. The tiller attachment cleared individual trees of up to 15 cm in diameter without any damage to the equipment.
Cost efficient and robust
The intensity of the tests increased significantly over the course of the following days, with the GCS-200 enduring several challenging live mine test scenarios. Survivability and acceptance tests were carried out using 3 Anti-Tank (AT) and 19 Anti-Personnel (AP) blast and fragmentation mines, with some mines activated by pressure and others by tripwire or tilt rod. The robustness and efficiency of the GCS-200 proved irrefutable – the machine successfully neutralised all 22 mines with the help of the tiller attachment. Despite the enormous blasts and fragmentation of two of the AT mines, (which are specifically designed to destroy vehicles including tanks and armoured fighting vehicles), there was only very minor damage to two chisels and two chisel holders on the tiller attachment. The GCS-200 machine and tiller attachment continued to operate exceptionally without any issues. Our technicians only needed 10 minutes to fit replacements with the cost of material amounting to less than 350 Euros.
GCS-200 is CROMAC certified
The first-rate performance of the GCS-200 lead to the successful accreditation certificate from CROMAC-CTDT for safe, efficient and effective mechanical demining in all types of soil, for clearance of all types of vegetation, and for mechanical demining of all types of AP and AT mines. "The GCS-200 machine provided excellent results against all test criteria without any malfunction or issues during the testing and accreditation", said Stimac. "This reflects GCS continuous commitment to enhance the reliability, productivity and safety of mine clearance operations and disposal of explosive remnants of war (ERW). By deploying its cutting-edge equipment alongside its highly-skilled certified staff, GCS can ensure that the very highest mine clearance standards are adhered to."
Click here for more videos with a detailed look at each of the test scenarios.
GCS gears up for clearance operations in Iraq
While long-term stabilisation efforts have resulted in some progress, Iraq still ranks among the world's most heavily mined countries. Explosive clearance teams supporting the country's reconstruction are faced with hugely complex and hazardous undertakings. This is reflected in the Directorate of Mine Action's (DMA) mandatory rigorous accreditation process, which calls for exceptional levels of technical skill and sophisticated equipment in mine clearance operations. Furthermore, it is highly advantageous if organisations already demonstrate a strong local presence with well-established partners on the ground. GCS is excellently equipped for the task ahead.

GCS in Iraq
With an office in Baghdad, the GCS team encompasses both Iraqi and international staff. They bring a wealth of expertise from decades of various clearance operations throughout the country. GCS understands the importance of recruiting and training local staff - their local knowledge, technical expertise and dedication to ridding their country of mines is instrumental, as well as their knowledge of the complexities of working in various regions in Iraq. GCS can conduct clearance operations across Iraq and will focus in areas where GCS technology, experience and operational capability can really make a difference.
GCS recently became one of the few international companies to be DMA accredited to conduct a variety of tasks such as the search and clearance of Improvised Explosive Devices (IEDs) and landmines. This followed a year of intense preparation and demanding field inspections. In adherence with the requirements, GCS employs International Mine Standards (IMAS) Level 4 certified experts, which means that they are specifically qualified to safely and effectively conduct Improvised Explosive Device Disposal (IEDD). CEO Philipp von Michaelis says, "the standards required for this accreditation greatly exceed those required for traditional demining, and this attests to GCS's expertise in conducting IEDD in a safe and efficient manner in highly treacherous environments." The licence additionally permits GCS to conduct Manual Demining, Battle Area Clearance, Technical Survey and Mine Risk Education. Accreditation for Non-technical Survey is close to completion.

GCS: Safety through excellence
The Iraq-Iran war in the 80s, followed one decade later by the Gulf War left the country ravaged and contaminated with explosive remnants of war. The 2003 US war with Iraq and ensuing prolonged internal conflict further littered the country with millions of unexploded ordnance. The problem was once again compounded by the ISIS occupation of 2014-2017, which left in its wake an IED-proliferation of previously unseen magnitude. There are daily civilian casualties in Iraq, as a result of mines, the most recent tragedies involving farmers who had never come across IEDs before.
During their retreat, ISIS purposefully placed booby traps and minefield-style obstacle belts in staggering numbers in public and private infrastructures including houses, hospitals, schools and playgrounds. Unexploded IEDs lie hidden under rubble littering roads and farmland. According to the UN, the bulk of the unprecedented clearance work in Mosul, alone, will take a decade. As von Michaelis says, "what we are witnessing is an extraordinary scale and complexity of contamination, where IEDs have eclipsed 'legacy' contamination from earlier conflicts. This is not typical one-dimensional explosive ordnance-clearance work and is very complex and demanding."

The right technology
Given the improvised and unknown nature of the IED devices in urban settings, and the sheer proliferation involved, traditional manual explosive clearance has almost become impossible. Clearance operations are further impeded by the colossal amounts of debris from collapsed buildings and the deployment of heavy armoured machinery to sift through the rubble has become a necessity. Von Michaelis explains, "it presents enormous challenges to the organisations tasked to neutralise these threats and requires extremely well-trained experts using suitable tried and tested technologies to render operations safe and effective."
The DMA machine accreditation GCS is already well underway. Both state-of-the-art multi-purpose platforms, the GCS-100 and GCS-200 , can be fitted with interchangeable, custom-made attachments and tools to conduct C-IED, Mine and Runway clearance operations. By deploying its cutting-edge equipment and highly-skilled certified staff, GCS can ensure that the very highest mine clearance standards are adhered to. Von Michaelis concludes, "until all types of explosive ordnance are cleared, and areas made safe, displaced people cannot safely return home. This clearance is a crucial step in rebuilding Iraq. GCS is greatly committed to supporting this goal by delivering this critical work."
International Mine Awareness Day. GCS makes a difference.
With over 100 million mines continuing to threaten the lives of people in over 78 countries, mine action still has a long road ahead. GCS upholds the UN International Day for Mine Awareness and continues to remove landmines, improvised devices, cluster munitions and unexploded bombs all over the world. Whether in Libya, Chad, Iraq or Colombia, our experts make a difference every day. This week, our team is in Croatia, putting our leading-edge GCS mechanical demining solutions to the test.
Every year, tens of thousands of civilians are killed or maimed by landmines and unexploded bombs worldwide. These indiscriminate hazards can remain in the ground, undetonated, for decades after hostilities have ceased, wreaking damage and hindering people from accessing their homes, limiting their movements, and preventing the land from being utilised. The UN declared that the 4th April should be observed each year as the International Day for Mine Awareness and Assistance in Mine Action to raise awareness of the ongoing threat posed by landmines. As GCS CEO Philipp von Michaelis says, "communities in conflict-stricken countries are affected by remnants of war 365 days a year: we have this one day to make the rest of the world aware of this fact."
Technological solutions are critical
With over 30 years of experience, our GCS Explosive Ordnance Disposal (EOD) experts are working daily to remove explosive remnants of war in countries around the world. Alongside the provision of expert consultancy to militaries, law enforcement and international organisations, as well as a wide range of services such as Counter-IED training programs, GCS also produces state-of-the-art mechanical solutions. Our mechanical demining platforms deliver significant advantages over manual clearance - not only can more land be cleared, but the toll on human life is greatly reduced, as the process of manual demining is extremely dangerous. "Stabilization and reconstruction efforts in conflict-stricken countries require experts applying the latest methodologies and proven technologies to create safe environments," adds von Michaelis.
The GCS-200 creates 'Safe Ground'
In commemoration of this year's Mine Awareness Day theme 'Safe Ground', GCS had the opportunity to test and demonstrate the maximum survivability of one of its remote-controlled tracked vehicles, the GCS-200. The testing took place at the Croatian Mine Action Centre – Centre for Testing, Development and Training (CROMAC-CTDT), where the GCS-200 faced several live mine test scenarios - 3 Anti-Tank (AT) and 19 Anti-Personnel (AP) blast and fragmentation mines, with some mines activated by pressure and others by tripwire or tilt rod. Performance tests were also carried out in different topology scenarios, e.g., sand, gravel, topsoil, as well as a vegetation clearance test. The GCS-200 effectively neutralised all of the mines in its path, with the help of the T-200 Tiller Attachment. There was minimal damage to the attachment from the blast and the successful result will lead to the accreditation certificate for GCS from CROMAC-CTDT.
Our highly-skilled technician Chris Thompson was the operator of the GCS-200 during the tests. Chris has extensive on-the-ground experience in operating the machine, having most recently returned from Chad where he accompanied the GCS-200 on an arduous overland transport mission in the Sahara. Chris conducted a 4-week operator training program to the local staff of the NGO Humanity and Inclusion (HI - formally Handicap International). HI has been using the GCS-200 since February of this year, in order to speed up the demining process of creating 'Safe Ground' on 1.5 million square metres of land still estimated to be contaminated in the north of the country.
The road ahead
Mine action saves lives, facilitaties the return to school of children and the return of safe land to farmers. It promotes economic and social development and makes it possible for citizens to live without the fear of these silent killers. Yet, mine action has a long way to go to tackle the fatal legacy of decades of prolonged conflicts. As von Michaelis says, "legacy minefields, as well as Improvised Explosive Devices from recent conflicts present enormous challenges to local communities and to the organisations tasked to neutralise these threats. It requires well-trained experts using suitable and tested technologies to render operations safe and cost-efficient".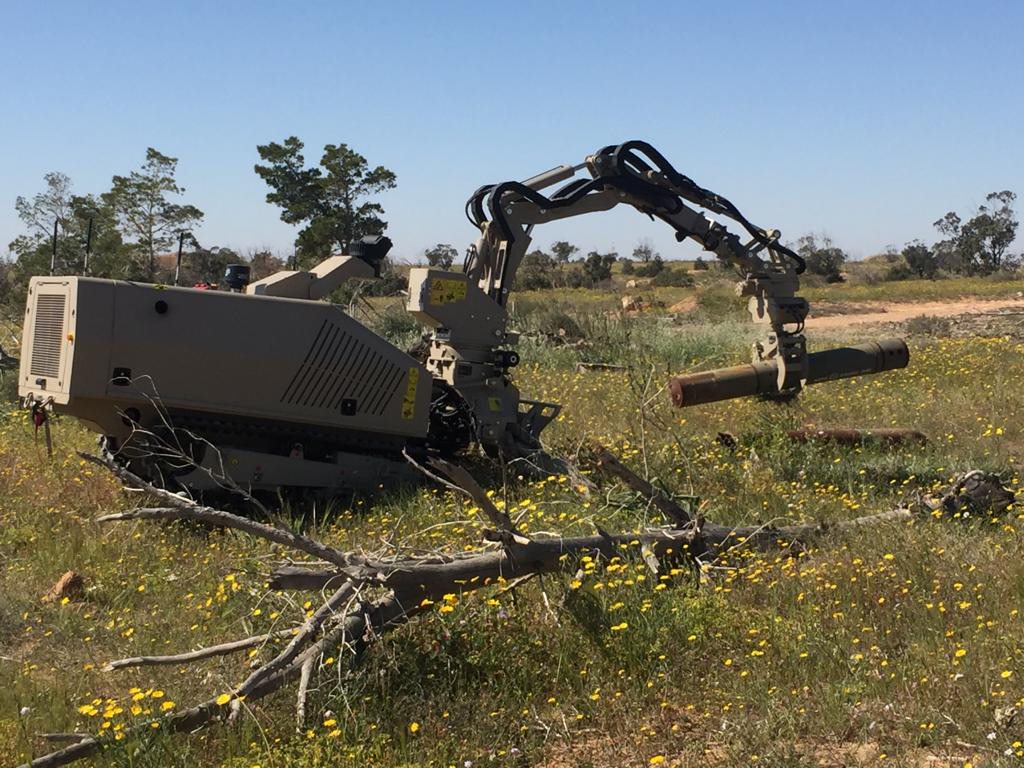 GCS starting overhaul for the German Army
Global Clearance Solutions (GCS) got off to a busy start this year: In January, the German Army delivered the first of seven complete MineWolf systems to our factory in the South of Germany for regular overhaul work.
The seven systems were delivered in 2010/2011 and have given the German Army an urgently needed C-IED capability for the ISAF mission in Afghanistan. The systems were deployed in Afghanistan from 2011 to 2014 and have proven to be an effective tool in neutralising Improvised Explosive Devices (IEDs) laid by the insurgents.
GCS is a long-time and trusted partner of the German Army and has fulfilled a number of maintenance contracts in recent years. Thanks to those contracts as well as an outstanding customer relationship, GCS plans to do the regular overhaul for a total of seven complete systems from the MineWolf 240 series until the year 2022. The systems consist of seven MineWolf 240 platforms with a variety of attachments as well as the required workshop infrastructure.
GCS is an established provider of solutions to counter any kind of explosive and hazardous threats. The company has operations in many conflict theatres and offers a wide range of products to its customers worldwide.
GCS presenting its platforms at MILENG COE Industry Day 2018
On 5 December 2018, the Industry Day hosted by the Military Engineering Centre of Excellence took place in Ingolstadt, Germany. The event provided a unique platform where military experts from NATO countries met companies and enterprises to share experience and knowledge to improve capabilities, products and services in the field of Military Engineering.
Amongst the 63 companies from 17 countries, GCS was present with its two multi-purpose platforms in the configuration for Counter-IED, Mine Clearance and Engineering Operations. The military experts were impressed by the versatility and robustness of our GCS-100 and GCS-200.
Kevin Kneebone named as new GCS Country Director for Iraq
We are glad to announce that we have expanded the GCS team with another seasoned industry expert: Kevin Kneebone (48) will lead GCS' operations in Iraq as Country Director. He was the Managing Director of Bactec for 7 years and has implemented many successful land and marine clearance projects since 2003.
With the support of Kevin Kneebone, GCS is looking forward to rapidly entering the market. Having considerable experience working in this region, Kneebone states: "Iraq represents a substantial opportunity given the right technical and operational approach while also taking into consideration the unique operating environment. The variety of UXO, mines and IEDs is very challenging."
Philipp von Michaelis, CEO of GCS, welcomes Kevin Kneebone to the GCS team: "Kevin brings a wealth of experience to the GCS team. Especially his experience in land and marine is a big asset for GCS. Therefore, we are happy to have Kevin also working on strategic topics and helping us to develop our business."
Ashley Williams, Mechem's former CEO, joins GCS
GCS has taken on board one of Mine Action's recognized experts to further strengthen its operations: Ashley Williams (62), former CEO of Mechem, has joined the GCS team as Head of Operations as of October 1st 2018. Williams' expertise and track record will serve to develop new business opportunities and establish GCS as a full solution provider in the EOD and mine action sphere.
Philipp von Michaelis, CEO of GCS, confirms: "Ashley adds more than 40 years of experience in dealing with explosive remnants of war to our team and he has been involved in a huge number of mine action projects all over the world. He perfectly complements our organization and culture, we share the same values and are convinced that this will produce tangible and sustainable results."
The greatest challenge will be to increase the recognition of GCS in this market, adds Williams. "The GCS brand is not yet well known but successful projects are delivered by people. The people behind GCS have a long track record in developing mine clearance technologies, as most of them used to work for MineWolf Systems, one of the pioneers in mechanical mine clearance. This know-how has been applied to develop the GCS range of products and the result speaks for itself. The extensive competence in implementing complex projects in some of the most hostile environments on this planet underlines our ambition to set a new standard in this industry."
Williams has been involved in humanitarian and commercial mine action activities for 14 years. Prior to that he was active in the Engineering Corps of the South African Army for 28 years. His greatest motivation is to employ his know-how and experience to provide help to those that need it most. "It's not the sheer figures, it's not the number of mines that get cleared by our machines. It's the opportunity to provide a certain degree of normality to people's lives." He recites one of his memories from his long career: "A few years ago we cleared a mango field in Senegal which was heavily contaminated. We found 20 landmines – a great success! Still, the most rewarding result was to see the children playing in this field when we came back a year later."
Participation in the NATO EOD Demonstrations and Trials 2018 a full success
GCS, a leading provider of safe, cost-effective and reliable solutions for explosive ordnance disposal, took part in the NATO EOD Demonstrations and Trials, which was held in Bratislava within 19–20 September 2018.
Over 360 participants representing 22 different countries viewed presentations by 37 exhibitors from 17 nations about their bomb disposal services and products. Watching exciting live demonstrations and comparing common experiences with current needs and technological developments were the event's main focus points, following this year's overarching theme "Multidisciplinary Approach to EOD".
High-ranking visitors from all over the world took a great interest in GCS's modular products and customised services.
Breakfast presentation with members of the German parliament
Wednesday, April 18, 2018. – Philipp von Michaelis, CEO of GCS, held a breakfast presentation on the current mine contamination in Iraq and Libya to members of the German parliament in Berlin.
GCS demonstrated its capabilities and references and presented a general requirement for implementing concrete measures for the sustainable achievement of goal in humanitarian mine action, as well as the tendering process and the awarding of public contracts. The need for an efficient alignment between clearance/disposal of explosive remnants of war (ERW), including landmines, improvised explosive devices (IEDs) and cluster munitions with the reconstruction of former conflict zones and capacity building was also presented and discussed during the event.
Organisation Approval Certificates (CAA)
Global Clearance Solutions AG
Has been certified with
The management system applicable to:
Engineering, Production, Sales, Services, Operations, Purchasing and Logistics for mechanical solutions for the disposal of landmines, improvised explosive devices (IEDs) and other remnants of war.
GCS-100 platform has received conformity certificate by Cromac ctdt for operation in humanitarian demining activities
Freienbach September 26, 2017
Global Clearance Solutions (GCS), the leading manufacturer of the remote-controlled mechanical demining machines, has received a conformity certificate by HCR-CTRO for its GCS-100 platform on September 04, 2017 in Zagreb.
Our smallest platform, the GCS-100 has been tested, evaluated and approved to be used for mechanical demining in accordance with the CWA15044:2009 and IMAS 09.50 for safe, efficient and effective mechanical demining.
in all types of soil up to the depth of 16 cm

for clearance of all types of vegetation (low, medium and high)

for mechanical demining of all types of antipersonnel (AP) mines to the depth of 15 cm.
The GCS-100 machine is the most versatile, compact and light mechanical demining platform on the market. GCS-100 outperforms any similar machine and is the only available machine under 3 tonnes that has been certified for mechanical demining.
See test certificate here